The Top 10 Most Popular Hip Hop Singles The Week Of 9/9/13
Drake's "Nothing Was The Same" single gets fans and the Wu-Tang Clan talking and Lupe's long-awaited "Peace Of Paper Cup Of Jayzus" excites followers, while Eminem's "Berzerk" video has staying power.
At the end of an album-heavy week that saw releases from 2 Chainz, The Weeknd, Janelle Monae and more, HipHopDX's Top 10 Singles Of The Week list is largely dominated by songs culled from future releases. Drake's Nothing Was The Same is now just a week and a half away and the Toronto emcee's latest single is the fittingly buzzworthy "Wu-Tang Forever." With a mystical project still in the works, Chicago rapper Lupe Fiasco let off a song with more than a month of build-up in "Peace Of Paper Cup Of Jayzus." Finally, Eminem's "Berzerk" single holds tightly onto its #3 spot on the list, but trades the video for the song itself. The list is rounded out by an unreleased and decade-old Michael Jackson number, Meek Mill's Kendrick Lamar response and a Cassidy song directed at the same Philly counterpart.
Drake Readies Nothing Was The Same Release With "Wu-Tang Forever" Single
After several weeks of speculation as to what the track might bring, this week Drake finally let loose the song named after a Wu-Tang Clan album from his upcoming Nothing Was The Same release. The song, released on Thursday (September 12), finds the Toronto rapper relaying his childhood in rap, explaining his gratitude that he didn't have to grow up in a rougher environment. "I find peace knowing that it's harder in the streets," he raps, "I know. Luckily, I didn't have to grow there / I would only go there / 'Cause there's niggas that I know there." Drake also seems to reference his much publicized altercation with R&B singer Chris Brown in a later line. ""I just like the rush when you see your enemy," he says, "Somewhere in the club and you realize he just not in a position to reciprocate your energy / You ain't ever worried 'cause he's not who he pretend to be."
Drake has received a mixed response to the track. Due to its explicit referencing of the Wu-Tang Clan, specifically its album, Wu-Tang Forever, some fans have complained about the lack of relevance to the reference. Besides the title, Drake borrows the first line of his verse from Wu-Tang member Raekwon's song "It's Yourz," rapping, "Machine gun raps for all my niggas in the back." The Wu-Tang Clan themselves came out in support of the song on Twitter:
GM fam! Woke up to a lot of @Drake disses... WTH? The homey did a song about us right? Is that not love/respect? Or did I miss sum'n?

— Inspectah Deck (@INSpectahDECKWU) September 13, 2013
Soon after, Wu-Tang member Inspectah Deck claims that after listening to the song he changed his mind. After first seeing it "as a tribute," something he says he "saw [as] respect," he Tweeted that after listening he found "it is in no form a tribute to WU and SHOULD NOT wear the title WuTang [sic] Forever!"
After listening to the @Drake song, I agree with u... It is in no form a tribute to WU and SHOULD NOT wear the title Wutang Forever!

— Inspectah Deck (@INSpectahDECKWU) September 13, 2013
Drake's third album, Nothing Was The Same, is slated for release on September 24.
Lupe Fiasco Releases His Long-Awaited "Peace Of Paper Cup Of Jayzus" Song
After an initial announcement on August 4, Lupe Fiasco finally offers fans a chance to listen to what some thought was going to be a full retail project. Instead, "Peace Of Paper Cup Of Jayzus" is a seven-minute long song with production similar to Jay Z's recently released "Holy Grail." In the song, Fiasco packs in as much of his usually dense lyricism as possible; in the process, he touches on a number of issues including what some might dub his artistic regression. "The critics say that I fell off I acknowledge I slipped / But what do you call falling from space into a bottomless pit?" he raps, seemingly in reference to what he himself considers a fall from artistic grace with his later albums. After several responses to Kendrick Lamar's "Control" verse, Lupe's "Peace Of Paper Cup Of Jayzus" also follows in kind with several explicit references to today's most popular rappers (the title itself seems to be alluding to Jay Z and his album Magna Carta Holy Grail).
Eminem Releases The Rick Rubin Featuring "Berzerk" Video
After premiering a preview of the video on ESPN one week ago today (September 14), Eminem's "Berzerk" video has quickly racked up more than 11 million views on Youtube to accompany its huge first-week sales numbers. The video, which includes a healthy dose of the song's producer, Rick Rubin, also features appearances from Kendrick Lamar, Slaughterhouse and Kid Rock.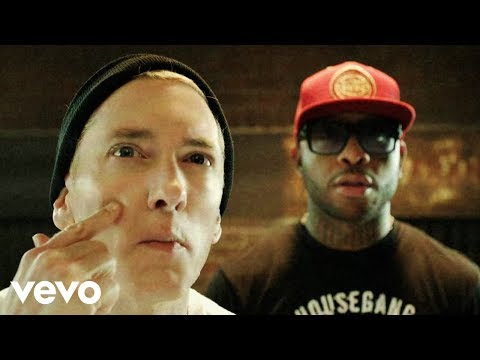 Eminem's eighth studio album, The Marshall Mathers LP 2, is set for a November 5 release date.
An Unreleased Michael Jackson Song Gets Released
Now more than four years after his death in June of 2009, an unreleased (and unfinished) Michael Jackson recording has been released to fans. The song, titled "I Am A Loser," is reportedly a product of a 2003 recording that also involved his longtime collaborators Michael Durham Prince and Brad Buxler. It seems that the track was spawned by the breakup of either Buxler or Prince and written alongside Jackson during that period. While it is not purely a demo, "I Am A Loser" is also not a polished recording and as producer Michael Prince notes. "You can tell it's the demo because after the second or third chorus you hear Michael go 'Ahh,' like that," he told a blog source. "He was getting ready to sing a part and then he stopped."
Jackson would have turned 55 August 29. He passed away in June of 2009 at the age of 50.
This Week's Top 10
2. Lupe Fiasco - "Peace Of Paper Cup Of Jayzus"
3. Eminem - "Berzerk" [Video]
4. Michael Jackson - "I Am A Loser"
5. AZ f. Nas - "Serious [Prod. Salaam Remi]"
6. Meek Mill - "Ooh Kill Em (Kendrick Lamar Diss)"
7. 50 Cent f. Skylar Grey - "Don't Turn On Me (Warning You)"
8. Cassidy - "Catch A Body (RIP Meek Mill)"
9. Rick Ross f. French Montana, Meek Mill & Diddy - "Bout That Life"
10. 2 Chainz f. Drake & Lil Wayne - "I Do It"
Related: Inspectah Deck Does Not Support Drake's "Wu-Tang Forever"
More News On HipHopDX