Wiley Explains New Music On "Evolve Or Be Extinct," Immigration Issues
Exclusive: The "Godfather of Grime" explains how he turned a difficult traveling situation into a song, and his thoughts from abroad on the upcoming United States election.
As he readies his new album for its January 19 release, Wiley has one song (besides his own) in heavy rotation- Rihanna's "Birthday Cake:" "I know, it's crazy, I just listen to it on repeat." When asked if it has anything to do Rih Rih's extra-explicitness that fades to black just shy of two minutes, he laughed to HipHopDX last week, "That's why it keeps repeating." Rihanna is known for risk-taking, and Wiley is following suit. Known as the "Godfather of Grime," and a pioneer of the popular Grime Rap scene in the U.K., he's focused on stepping away from record label expectations, and creating music that he feels passionate about: "I came to a point in my life where I realized that [I had] to actually evolve and I was just trying to put myself to the test, and make a real album that I would make," he said. "I used to do things and not finish them. This time around I actually did concentration from the start. If something wasn't right, I went back and I said, 'Wiley, this isn't right.' Not to say on the other [albums] I didn't work hard, but it's just that this time I actually did concentrate, and it's probably the first time I ever have."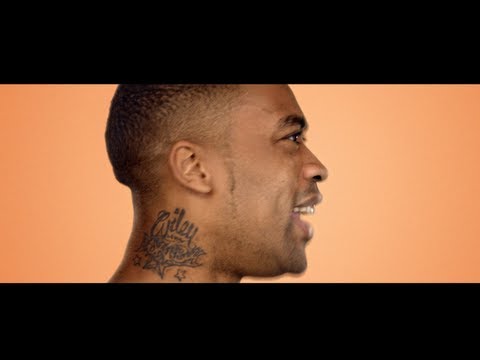 On Evolve Or Be Extinct, the follow up to last year's 100% Publishing. The album holds true to Wiley's grime roots, with club bangers about dancing in his room and songs about fruit-flavored daiquiris. But he also tackles serious issues like immigration. On "Immigration," he recounts the heart-sinking feeling of being denied entry into the U.S.: "They looked at my passport, at the picture I took before we had the chip in the back, and the picture was a little bit ripped. So they must have thought I was trying to something dodgy. And that is the time I was thinking of when I was doing the tune. The way that immigration deals with you, they're very strict. They spoil your fun. When they let you know that you are not coming in this country, your heart breaks. It's so horrible."
With an upcoming appointment with the Embassy, the immigration experience will hopefully become a distant memory, as he tours in support of what he calls "Wylie 2012 Music." At 32, Wiley is already considered a legend to U.K. youth who are following in his steps, and crave more grime music. And they've fueled him to stay true to the sound and not record label demands. "[I do it for] the kids who do it today, and will take over and be the future. It's in my blood, but sometimes in England, we make music that doesn't display our identity. We love the sound, but we don't always stand by it. We might just go and make a different song for the money." Although Wiley is loyal to his grime roots, he's ready to pursue all genres. "I'm trying to make sure that all the avenues that I can work on, I work on them. Now that I'm older, I'm actually not scared anymore. I would go and do a video for a grime song and go release it on the chart and not worry about its chart position, but be proud to do a good song that I love."
The kids may be awaiting Wiley's next musical moves, but growing up, he had his ear tuned to New York rappers. He says he was heavily influenced by the East Coast sound of the late '90s, and a young Lil Wayne: "I listened to Wu-Tang Clan. I listened to [The Notorious B.I.G.], Jay-Z, Cam'ron. I used to really be banging some New York artists. I still am, but obviously some of the people are not doing the same music they used to do to. But yeah, Jay-Z and the whole Roc-A-Fella thing, really influenced me quite a lot. And then I was aware of what Master P. was doing, and I was aware of the down South stuff, but it wasn't as big as today. But I respect Lil Wayne. There are loads of reasons why he could not be here, but he's here, against odds."
Wiley notes that he's been listening to Lil Wayne, Drake, and Big Sean, but many unexpected names in Pop have caught his ear as well, those he considers risk takers and masters of melody. "Outside of Rap, I listened to a lot of Katy Perry, and I listened Ke$ha. I listened to like different, really weird music. I listened to Black Eyed Peas, and just people who are not scared to go out of the boundaries I suppose. So then when I go to do what I'm doing it helps me to not be so limited. Because in England, sometimes we limit ourselves in what we do, when really there is no limit." U.K.-based artists like Jessie J, Adele, and Tinie Tempah, made huge splashes across the pond in 2011. Wiley expresses his excitement for their momentum. "If we've got someone like Adele, or something that naturally came from here, and America appreciates it, I feel like that's a good thing. I respect Tinie Tempah. I think he's done great things. I'm glad that his music gets played over there, and I'm happy for him, because he's a good-hearted person."
Not only has there been an influx of great international artists, but U.K. producers are responsible for some of today's Billboard hits. London producer and dubstep master Jamie xx produced Drake's Gil-Scott Heron-sampled duet with Rihanna, "Take Care"
. It seems like this would be a great time for Wiley to introduce grime to mainstream, but he doesn't have a list of superstars on speed dial. Instead, he's intent on finding the right match organically: "If someone hears or likes a snippet, something can come out of it that way. I'm not really going to be trying to get on a song with like, Chris Brown, or someone. But if I'm working in an atmosphere, and someone heard something that they liked because it was crazy-sounding, then I believe that's the way I'd probably get to work with people."
As he prepares for "Wylie 2012 Music," he also gives his opinion on the year's most-anticipated events—the U.S. Presidential election. Since the pound is not experiencing the same decline as the euro and the U.S. dollar, he says life on the ground in England is pretty stable, despite one universal issue: "We have this problem in England. A lot of people want money, but not everyone wants to work. And some people, by circumstance, their lives sort of go downhill, and they end up living on the street. But, there's a group of people who are fit and health and could work and they're just lazy. So, we have that problem." On the political front, he believes that England is ready for a change in the White House: "Essentially if it's going to be a person different to [President Barack] Obama, I think England will get behind them more. I feel like Obama was cool, but obviously I know he's not going to be there forever. I don't believe that Obama really got voted in. But obviously, that's just what our people try and install into my brain. But I do feel like England wants America to have someone new. I don't think it's about color or anything. I just think it's about someone getting in there and doing their job, and making it the best it can be for the people. But sometimes I think politics is over our heads. I think a lot of the stuff will occur with or without us."
While the election is months away and the outcome will remain until November, Wiley fans will certainly have Evolve or Be Instinct in their hands this week. And the solid project should secure his reign as Grime King for years to come.
Photo by Spencer Murphy
Purchase Music by Wiley
More NEWS On HipHopDX